WOW!  Today marked the last day of summer vacation at my house.  It's really a bit unbelievable how fast the past 12 weeks flew by.  And it's kind of sad for me to think about sending my baby off to Kindergarten.  I'm really going to miss my fun days with him.  But based on the interactions going on at my house this week, I do believe it is a good time for all of us (boys, Mom & Dad) to settle back into a solid routine.  Starting on Monday, my brown-bagging skills will come back to life and I will be expected to pack healthy and entertaining lunches for 3 little peeps, 5 days/week.  Thankfully, my hubby helps with packing his own 🙂
This weekend (on Sunday, August 25th) I will be back on WISN Channel 12's morning news to share some of my tips for minimizing the chaos that can accompany packing school lunches.  Tune in around 7:45 and 8:45am to catch me live! (Or DVR me if you are still snoozing).
Thought it would be helpful to blog about a few of the items that I will be highlighting during my TV segment. These are tools and accessories that I have found to work well, over the past 3 years,  in sending my kiddos to school with their own lunches.  You can spend a little money on fun food accessories….or a lot.  Just depends what you are looking for and how long you want it to last.  Here are a few of the favorite tools in our house to aid you in your back to school lunch planning.
LunchBots have been popular with my boys.  I have really like them too because they are durable, easy to wash, and they offer some different sizes with and without internal compartments for food separation. They fit well into a variety of different sized lunch bags, and they store well in the fridge if you prep something the night before and want it to remain cold until morning.   I have used the all stainless steel models w/ the stainless lids.  LunchBots can be run through the dishwasher if you desire, but I find them SO EASY to clean up that I frequently take about 3 minutes (one per box) to wash them by hand.  They fall into a mid-range price point and sometimes go on sale.
This year the boys begged to try out the Pottery Barn Kids Spencer Bento Box Containers and Classic Lunch Totes. (pictured above)  Since we are using our THREE year old backpacks, I splurged on new lunch accessories this year.  The plastic boxes are BPA free; however, I would not expose them to extreme heat or cold (no putting them in the microwave!).  They fit snugly into the tote w/ a small bit of space for an icepack, napkin or silverware. The plastic inserts run about $16 (but I got mine on sale for $13) and the sacks average about $20.  Not inexpensive, especially when you multiply that by 3 children, but I feel the quality will be such that we can use these for more than one year.  Will keep you posted on how the plastic insert holds up – I will be hand washing mine as they are EASY to clean and this should make them last longer.  Lastly, I like the fact that there is a water bottle holder on the outside of the classic tote and another pocket as well (if you put ice inside, you can put napkin/utensils in the outside pocket).
If you end up with a box where you need to custom cut ice packs – here are some that I found on amazon that could be carefully cut apart to work in your lunch bag:  Rubbermaid Flexible Ice Blanket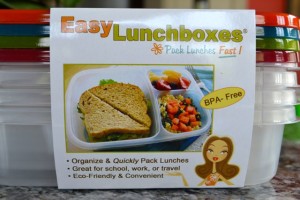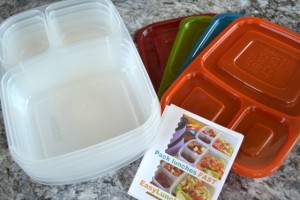 BPA-free Easy Lunchboxes are a convenient  and highly economical way to go.  They come in packs of 4 ($14) and standard colors shown here or "BRIGHTS" if you have some little girls in your home you love color.  Could not convince my boys to go with a trial of the brights.  There is one large compartment and two smaller ones.  Not sure how great the seal is between compartments – would not recommend putting liquids in here.  If you are going this route, you will have to make sure these fit in your lunch tote (they measure 9″ x 6″ x 2″ roughly).  This would be a great product to start with if you're not sure how long your brown bagger is going to last before asking for hot lunch 😉
And something that may come in handy for use in the larger compartment here are these silicone muffin cups. You can use them to further separate items in the larger compartment if need be.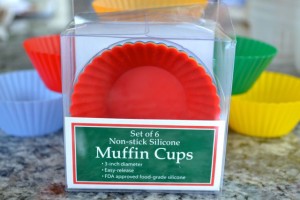 Another option for those of us looking to save the planet are the Eco Collapsible Meal Kits by SmartPlanet (pictured below).  This container actually contracts to be stored and expands when there is food in it (you push it down to collapse it).  It includes a small condiment container as well as a spork utensil that fits snugly under the lid.  It's BPA free with a silicone base.  While the manufacturer suggests it is "top rack dishwasher safe" and "silicone base microwave safe,"  I would wash it by hand and NOT use it in the microwave which is the policy I follow for almost all of my lunch accessories.  (The exception being that I will sometimes run my stainless steel items through the top rack of the dishwasher on occasion.)
Another item that I have found useful to have on hand for prepping creative, healthy lunches is a small thermos (easily found at Target/Walmart or the like).  Sometimes the boys enjoy taking soup, chili, warm pasta salads, or spaghetti and sauce and those fit conveniently into the little thermos shown below.  They hold about 10 ounces, keep food HOT for 5 hours (which is perfect if you heat something at 7:30am and it's being consumed at 12:30pm), and keep food COLD for 7 hours (cold pasta salads, veggie salads, etc).  These do NOT fit into the Pottery Barn Totes w/ the Spencer Bento Boxes 🙁  So, if we are having a thermos lunch day, I will use last year's lunch totes w/ bento boxes and the thermos.  Easy to make the switch. Of course the thermos' at my house are Star Wars – there are WAY CUTER ONES on the market out there.  Hope you get to pick one of those!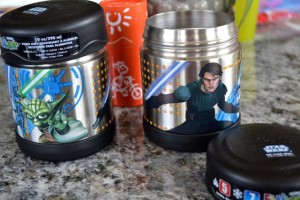 Here is something new (see below), that was very inexpensive, that I'm going to give a try this year – silicone ice pop makers.  You can find them for about $8 for a set of 4 on Amazon.  Supposedly, they are easy to push-up, not messy, and the lids hold the ingredients in well before they freeze.  I'm planning some fun frozen smoothies, puddings, fruit purees, and more for the boys lunches this year.  My plan is to freeze solid and then remove from the freezer the morning they are going to eat them in their lunch.  Will send in bag with icepack and see how things go.  Stay tuned – will keep you posted on all this.
Lastly, the Spencer Bento boxes that the boys are going to test drive have one compartment with an extra lid on it.  Hoping this is sufficient to hold any dipping sauces or salad dressings I send to school.  If not, I discovered these little Evriholders (BPA Free w/ leak-proof top) that may come in handy – they just fit into the bento box compartments (but NOT in the extra lid compartment)  or they can easily be added into a sack lunch.
Hope all that info helps some of you to develop your game plan for back to school lunches.  Stay tuned for my next post which will give you a few of my suggestions on "how" to manage back to school lunch planning as well as a few fun ideas for what to prepare for all these fabulous lunch boxes.
Would love to hear about some of your favorite foodie tools for prepping back-to-school lunches.  Do share!
Be well & celebrate heading back to school!
And a big PS.  I am anxiously awaiting a PlanetBox lunch set to test out – they are sending me one to include in my TV segment.  Boys are looking forward to test driving it too!  Will update as soon as I have it here and can take some pics.  PlanetBox is the Cadillac of the lunch box world – stylish and built to last…will see if it's worth the price.