Between school supply shopping and last minute summer adventures, it's also time to think about back to school lunches.
They don't need to be complicated and pinterest worthy – just simple, delicious and nutritious.
I popped into Fox 6 Real MKE earlier this week to put a healthier spin on two lunch favorites – chicken salad and burritos!
Easy Chicken Salad Wraps
Serves 2
1 cooked chicken breast, chopped
1 teaspoon olive oil
1 teaspoon taco seasoning
2 whole wheat or sprouted wraps (or lettuce wraps)
1 cup brown rice, already cooked
1/3 cucumber, cut in matchsticks
¼ cup red onion, chopped
½ avocado, sliced
fresh lime
¼ cheese, optional
In a mid size pan, over medium heat, sauté chicken breast in teaspoon of olive oil with the taco seasoning until blended. Set out wrap and layer it with chicken, rice, cucumber, onion, and avocado. Add a spritz of fresh lime and cheese if desired. Roll up wrap. Enjoy!
Easy Chicken Mason Jar Burrito Bowl
Serves 2 – Use 16 ounce mason jars
½ cup salsa
½ cup black beans
½ cup corn
1 cup cooked brown rice
fresh lime
cilantro
¼ cup red onion, chopped
1 cup cooked chicken, chopped
½ cup tomatoes, chopped
½ avocado, chopped
½ cup spinach
Divide ingredients between two 16 ounce (pint size) mason jars. Layer ingredients as listed: salsa, black beans, corn, rice, fresh lime juice, cilantro, onion, chicken, tomatoes, avocado, and spinach. Put lid on jar and place in fridge. When ready to eat, pour into a bowl, mix and enjoy!
Good luck to all the mama's out there that are sending their babies back to school this week and next.  I LOVE summer and it's always tough to see this special time with my kiddos come to an end.  But I'm also grateful for some time to focus on myself and my own personal health and wellness goals.
Coming soon!  The details regarding my next fall detox program (all new recipes!) as well as my first 28 day, Whole New You program.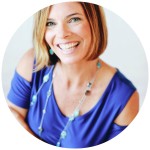 Heather Ferber is a Certified Holistic Health Coach, AADP who helps busy moms get fresh, focused and energized. She is a detox specialist helping women to rebuild gut health, balance hormones and thrive. She enjoys empowering moms to take back their health and feed their families better with simple, everyday advice and suggestions that can be easily integrated into today's modern family's hectic lives. You can find her on Fox 6 Real MKE once a month, speaking and teaching classes in the community, cooking in her kitchen for family and friends, playing her piano to relax, or out running with the family dog.