Last night I ate something that made my belly as hard as rock and not very happy. This is a normal occurrence when I venture off the clean eating path. Fortunately, I have been playing around with the the delicious recipes from my upcoming Love Yourself Winter Detox and I was able to get back on track today with a delicious smoothie to help diminish the belly bloat. As someone who has done elimination diets, detoxes and cleanses before, I know that I have a bit of a sensitivity to some grains. Last night it was probably the processed crackers and possibly the brown rice that did not agree with my belly.
Our bodies change daily. Our bodies change with the seasons. Over the years, I have found that cleansing has allowed me to discover the foods that are best for my body and those that are not so good to eat. Cleansing has opened my eyes to an amazing collection of recipes that I now use in my every day life.
Ideally, I like to detox 4 times/year – once with every season.
My Love Yourself Winter Detox is based on the elimination diet – it could change your life!
The smoothie I made today is called the Berry Bliss and it's included as one of the 60+ recipes in my upcoming Winter Detox.
Just in case you want my recipe, here it is: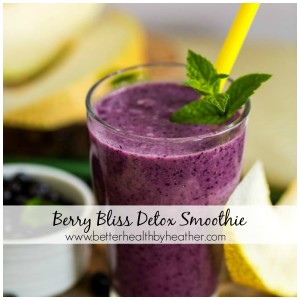 Ingredients (for ONE serving):
3/4 cup water
1 cup berries
1/2 cup spinach
1/2 handful of parsley
1 teaspoon flax seeds
1/2 teaspoon vanilla extract
1 inch piece of ginger
1 teaspoon of honey OR stevia to taste (or leave out completely)
BLEND and Enjoy! **If you don't have a high speed blender, put water in first and blend with greens until pulverized. Then add other ingredients and mix again. Thin with additional water to reach desired constancy.
For more information on the Love Yourself 11-Day Winter Detox, just click here.