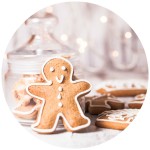 It's the most wonderful time of the year…the last 6 weeks of 2015.
Every year I remind myself to take a deep breath, focus on what truly matters, and not sweat the small stuff for the November and December.  Time to stay healthy and enjoy these next few weeks!
This year I decided to dive a bit deeper and spell out exactly how I am going to save my sanity and stay healthy this holiday season.
When I mentioned this to one of the moms at the gym, she was quite interested in what I was going to focus on so I've decided to share with all of you…
My 7 Simple Steps to Save your Sanity & Stay Healthy this Holiday Season
Practice gracious and graceful "no's" – We can't be everything to everyone.  And that's ok.  'Tis the season to focus on family and close friends not trying to please the world as your mental health truly matters. Think about the commitment/task/request you are entertaining – does it make your heart sing?  If not, graciously and gracefully decline and perhaps offer up a future possibility if that is in your heart.  Practicing gracious and graceful no's, in the mirror, has definitely helped me out.
 Smoothie it up!  – Blend it up girlfriend!  What better way to pack a TON of nutrition into your meal in a very short amount of time at a very low cost.  Smoothies aren't just for breakfast anymore – you can make them for lunch, dinner or snacks during the holiday season to save your sanity in the kitchen.  In fact, this time of year, it's important to pack a lot of immune boosting foods into the blending container including berries of all kinds, carrots, kiwi, spinach and sweet potatoes.

Plan Simple Meals – Keep it simple sister. Now is not the time to bust out your 15 cookbooks looking for new, complicated culinary creations. Stick to family favorites and basics.  Maybe think about upgrading your ingredients to make some of those meals healthier this time of year as opposed to trying completely new recipes. For example, if you are a taco family, try making your tacos with organic chicken or turkey, non-GMO corn shells or even lettuce wraps and lots of fresh veggies and avocado.  YUM!  Or, if your family enjoys spaghetti night, try organic chicken and spinach meatballs with Muir Glen spaghetti sauce and quinoa/black bean/zucchini noodles. If meal planning is tough for you, think about hiring a health coach as a Christmas gift to yourself or purchasing meal plans from a website like "Plan To Eat."
Work it Out – While I just finished an intense 7 week workout challenge where I spent a few too many hours at the gym, I will still be back 5 days/week during the crazy holidays. Get yourself moving. Even if it's only 20 minutes/day. It will boost those endorphins and make you think twice about eating that sweet treat…which brings me to point #5.
Limit the Sweet Treats – All that sugar is just not good for you. Not only does it contribute to unwanted pounds, it can challenge your immune system and who wants to be sick during the holidays?!  Not me.  Make powerful, calculated choices in terms of the sweet treats you choose. Or learn to make some healthier sweet treats. (Speaking of which – that's a new class I'm teaching!  Message me for details if you'd like to host a class on December 2nd or 7th or in the new year.  I make all the treats!  You get to sit back, relax and eat…and not feel so guilty about these treats.)
Stay Hydrated – Bring that fancy water bottle with you where ever you go.  And when it's not with you, like at the holiday office party, sip some sparkling water in between your cocktails.  Or better yet, limit yourself to one of your favorite alcoholic beverages and spend the rest of the evening sipping your sparkling water with lime through a little black straw – no one will notice it's not alcoholic 🙂 And the sparkling water, through the little black straw, will keep you looking svelte in your little black dress. *smooch*
Surround Yourself with Those Who Lift You Up – You know who your family and friends are that build you up and make you feel great and those that drag you down. Spend extra special time with those who add value and love to your life.  See tip #1 on how to manage other circumstances.
And those are the things I'm really going to focus on the remaining 6 weeks of 2015.
Would love to hear from you with your favorite tips and ideas that help you stay healthy during the holidays.  
Please take a moment to share!  You will inspire me to stay on track. XO