A couple weeks back, I had an opportunity to participate in an open house that was focused on promoting brain health as well as improved attention span, focus and memory through a variety of educational games and challenges. Learning Rx helps to improve reading skills, dyslexia, and auditory processing disorders. They can also make an impact on concussion, stroke, and brain injury rehabilitation.
Learning Rx owners asked me to participate in their annual open house because they, like myself, are big believers that what you put into your body as fuel can impact your brain function – either positively or negatively.
It was a delicious day of making brain boosting smoothies and sharing healthier snack alternatives for children while meeting new friends and chatting about the current state of brain health with many local families.
The biggest hit of the day was the brain-boosting smoothie – one of my favorite ways to get more vegetables into my boys.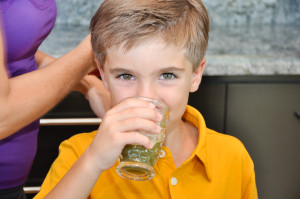 Most moms are not telling me that their children are eating too many fresh vegetables. And perhaps some moms are struggling to get their daily fill as well.
This month, I was made aware and have been participating in a unique campaign created by UnitedHealthcare – "We Dare You."   This is a consumer campaign that is encouraging people to get more active and be healthier, which I absolutely love! What a great idea! People share photos of themselves completing "a dare," that changes every month, and obtain chances to win fun prizes while getting healthier. You can learn more about the We Dare You campaign here.
June's dare is near and dear to my heart – eat more fresh veggies.
Moms, I dare you to eat more fresh veggies this month! And to find a way to make them enjoyable for your children.
That brings me back to the yummy brain boosting smoothie that was a huge hit at the open house!
I challenge each of you to prepare a brain boosting smoothie for your kiddos and to hashtag it #freshveggiesWDY #betterhealthbyheather (and get a chance to win some fun prizes via the We Dare You campaign). Fill my FB and Instagram feed with kids drinking brains boosting smoothies and enjoying more veggies!

Brain Boosting Smoothie
Ingredients
¾ cup almond milk
¾ cup water
½ cup frozen blueberries
½ cup frozen raspberries
¼ cup frozen blackberries, optional
½ banana
1-2 cups spinach
1 tablespoon chia seeds
1 teaspoon coconut oil
Instructions
Place ingredients in high speed blender in order that they are listed. Blend on high for 1-2 minutes. If you are using a regular blender, mix your liquids and greens first and then add remaining ingredients. Add ice cubes to thicken or water to thin to reach desired consistency.
This delicious smoothie concoction offers riboflavin, anthocyanins, antioxidants, serotonin, folate, Omega-3's, and healthy saturated fats – ALL of which play a role in optimal brain function.
Our children need better brain fuel more than ever. YOU can make that happen!
Time to take action and engage in this challenge.
PS.  Grab a copy of my FREE Eating for Energy e-book while it's available!  Perhaps this will help you identify some of your obstacles and habits.  www.betterhealthbyheather.com
Heather Ferber is a Certified Holistic Health Coach and detox specialist helping busy moms to get fresh, focused and energized so they can enjoy better health, balanced hormones, healthier kids and more calm in the kitchen. She has appeared on WISN Channel 12's morning news to share her kitchen tips, tricks and recipes. You can find her on FB at www.facebook.com/betterhealthbyheather or on the web at www.betterhealthbyheather.com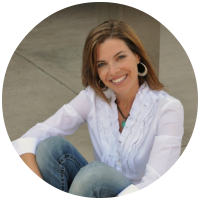 PPS. While United Healthcare sponsored this post, I fully believe in the campaign they are running. We need more creative campaigns like this one to spark better health and wellness and make it a fun adventure!