The chaos of summer has the potential to rock even the best of the healthy kitchen routines, including my own.  But I've learned that doesn't have to be the case!
Once again it comes down to having a plan in place to know what's available for breakfast on the run during our busiest summer mornings as we prep for tennis, camp, play dates, adventures and more.
Today I'm sharing  a few of our family favorites that add sanity to our crazy summer life and allow us to remain in our clean eating zone.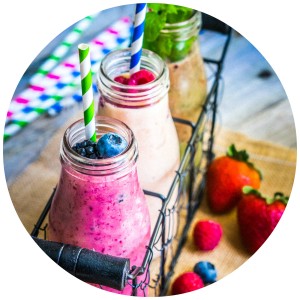 Here are the top 5 whole foods morning meals that my kiddos enjoy during the summer:
Organic or Nondairy yougurt with toppings – our current favorite yogurts are Stoneyfield Organics, Siggi's plain/vanilla, Kite Hill plain/unsweetened vanilla, and So Delicious plain/unsweetened vanilla. Assorted toppings include chia seeds, flax seeds, sunflower seeds, pepitas, almond slivers, walnut pieces, fresh berries, dried fruit, cacao nibs, and granola.  Store your topping favorites in glass jars in the pantry so you can quickly lay out an "assembly line of toppings" if needed.
Sprouted toast with nut butter and low sugar jam – our current favorite sprouted breads are Angelic Bakehouse rye, 7 grain and cinnamon raisin. For nut butter I look for organic brands on sale or non-GMO brands where both have "nuts" as the only ingredient.  We also enjoy the no-sugar-added sunbutter blends.
Qi'a or homemade oatmeal mixed blends with toppings such as cinnamon, cardamom, nuts, seeds, and berries. We've tried to invent our own version of Qi'a but have not perfected it yet so I try to buy boxes when they are on sale.
Eggs – fried, scrambled, poached, hardboiled and they easily mix with your favorite veggies. You can even prep egg burritos in advance and freeze them for future.  Check out my Fox 6 Real MKE segment where I shared my egg and veggie burrito recipe!
Smoothies – get creative with your fat/fiber/protein combination and that will keep you running strong for extended periods of time.
All of these are easy to prep , put in paper bowl or on a paper plate or in a large cup to take on the road if needed.
A couple of my other personal favorites include my Energy Quinoa Bowl and Quinoa-Berry Breakfast Bowl – both those recipes will be included in my upcoming 28 Day NEW WHOLE YOU program which will launch in July.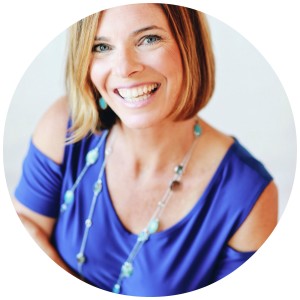 Heather Ferber is a Certified Holistic Health Coach, AADP who helps busy moms get fresh, focused and energized. She is a detox specialist helping women to rebuild gut health, balance hormones and thrive. She enjoys empowering moms to take back their health and feed their families better with simple, everyday advice and suggestions that can be easily integrated into today's modern family's hectic lives. You can find her on Fox 6 Real MKE once a month, speaking and teaching classes in the community, cooking in her kitchen for family and friends, playing her piano to relax, or out running with the family dog.