Who doesn't get a hankering for a good gingerbread cookie during the holiday season?!  I know I do!
But sometimes I skip the cookie and make this delicious smoothie instead.  It keeps me much better energized and satiated and my hips and waistline usually thank me.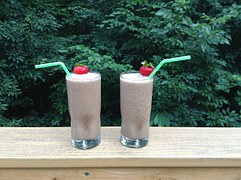 Gingerbread Cookie Smoothie
Ingredients
1 cup almond milk
1 cup spinach
1 tablespoon ground flax or chia seeds
1 teaspoon cinnamon
1 banana
1 tablespoon almond butter
1 scoop unflavored protein (GSGLife is my preferred brand)
stevia to taste, optional
ice, optional
Instructions
Blend almond milk and spinach until well mixed.
Add in all other ingredients and blend well again.
Add stevia to taste if needed.
Use ice cubes to thicken and more almond milk to thin.
Enjoy!