For abounding energy, beauty, mood, and weight loss, the gallbladder and liver must be working optimally. According to Chinese medicine, detoxing in the spring is the best way to honor and restore these organs.
The liver plays a critical role in your overall health. It has over 500 metabolic jobs, including the production of toxic bile, a means of natural detoxification. However, when the liver gets flooded with toxins and becomes congested, bile cannot be produced correctly. As a result, those toxins remain in your system and you may experience impaired digestion and acid reflux, among other unpleasant complications.
The liver is related to anger. Therefore, as you cleanse your liver and eat liver-loving, high-alkaline green foods such as parsley, cilantro, and kale during a spring detox, you notice a dramatic shift in your mindset.  Release and end the anger.
Spring also honors the gallbladder. The primary role of the gallbladder is to store bile. If there are stones or blockages in the gallbladder from storing too much toxic bile, then you become tired, irritated, and constipated.
The following Smoothie Bowl recipe was created to support the organs of spring – the liver and the gallbladder.
ACAI SMOOTHIE BOWL

Acai Smoothie Bowl
Recipe type:
Spring Support for Liver and Gallbaldder
Ingredients
½ packet Sambazon Unsweetened Acai Pack
1 handful mixed greens
½ cup coconut milk
⅓ cup frozen blueberries
1 Tablespoon camu camu (optional)
⅛ teaspoon ceylon cinnamon
⅛ teaspoon turmeric powder
1 scoop plant based protein (I prefer GSGLife)
Instructions
Mix ingredients in a high speed blender.
Pour out into bowl.
Top with 2 Tablespoons of chia seeds.
Or get creative with other fun toppings you enjoy (like coconut, goji berries, and sunflower seeds)!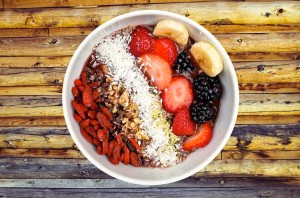 **You can find Sambazon Acai Packs in the fridge/freezer of some local health food grocers. You can also order them online.**
If you are interested in detoxing this spring, I am offering individual spring detoxes.  (Group detox programs will return in the Fall of 2016.)  
You can contact me at heather@betterhealthbyheather.com or here.
You can also download a very basic FREE 7 Days of Delicious Detox for Spring – Keeping it Simple to help you get started on your cleaner eating detox journey.