Oh my!  Summer has flown by!  My boys are heading back to school already next week – I feel like I blinked and summer is almost over.  We are taking some fun family time this weekend to go camping (with a pop-up as I'm not ready to tent it yet) and we have a couple fun things planned for next week to wrap up our summer festivities.  If mother nature would bless us with a few more days in the 80's (or 90's for me), perhaps we could make it to the pool a few more times as well.
Many of you have been requesting recipes that I have posted on FB this summer (www.facebook.com/betterhealthbyheather) or that we have chatted about, and I have finally been motivated to get my recipes organized and photographed.  As I thought about sharing some of our family's favorite culinary creations with you, I decided to take this recipe sharing idea one step further.
Presently, I'm hard at work on a special project – a labor of love, really, to benefit a beautiful, dear friend of mine who's fighting stage IV breast cancer.  This is a "feel-good", actually "feel-AWESOME!," recipe project that will culminate in a beautiful e-cookbook later this fall.  WOOT! WOOT!  Do you know an amazing chef that would like to have a recipe included in my project?  Feel free to have them contact me at heather@betterhealthbyheather.com (or thru my website).  And perhaps some of you have an original family recipe that is healthy and delicious that you would like to share -again, feel free to contact me!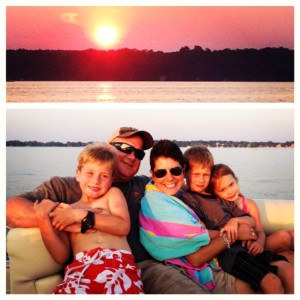 The Fuglestad Family Summer 2013
Here's a copy of the informational letter that I am sending out in case any of you are inspired to share this project with someone you know:
Dear Friends,
Hippocrates said, "Let food be thy medicine and thy medicine be thy food."  Therein lies the potential power to aid in the battle against cancer.  My dear friend, Molly Fuglestad, has used the power of nutrition to aid her battle against Stage IV breast cancer and to maintain her energy to keep up with her young family. Molly and I would like to inspire more people fighting cancer (and those striving to avoid it) to improve their diet!
I invite your participation in a no-cost opportunity that will directly benefit Molly and her family – as well as thousands ofers throughout the country – while gaining exposure for your business.  I'm writing to respectfully request a favorite, original recipe that could appear in an e-book that will be available around November 2013.   The book will focus on tasty, healthy recipes that the whole family will enjoy and sell for about $12.  All proceeds will directly benefit the Fuglestad Family Foundation (which is established at Fort Credit Union in Jefferson, WI) to aid with Molly's mounting medical bills.  A solid PR plan and technical infrastructure is in place; the e-book will be sold all over the United States.
If your recipe is selected, you'll be given a "personal spotlight" where you may share a few words about yourself, your recipe, or how cancer has impacted your life.  Your company logo and a link to your website and/or blog may appear on your page. You are welcome to submit high quality photos (with credits) that could accompany your recipe as well.
Please join us in our mission to educate, empower and inspire more people to fight cancer with their forks!
Wishing you good health,
Heather Ferber
For more information on Molly's story, please see the following:
Caringbridge http://www.caringbridge.org/visit/mollyfuglestad
Molly's Army https://www.facebook.com/pages/Mollys-Army/124685570898975
BHBH FB page https://www.facebook.com/betterhealthbyheather
Jim Stingl/Kenny Chesney Column about Molly & Friends http://www.jsonline.com/news/milwaukee/womans-army-adds-new-member-in-fight-against-breast-cancer-b9917747z1-208755531.html
TV interview (Madison) http://www.wkow.com/story/22421069/2013/05/24/newly-found-friendship-is-inspiring-thousands-online
So if you or someone you know want to be involved in an AMAZING pay-it-forward e-cookbook project, don't hesitate to contact me!  And no worries if you don't have any cook connections or recipes to submit….you will always have the opportunity to contribute by buying the book 😉  Wishing you all a wonderful week and lots of summer fun with your little ones in the short time that remains.
Many thanks for your continued support!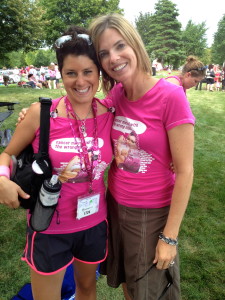 Molly & Me