What are Heather Ferber, Gwyneth Paltrow, Salma Hayek, and Kobe Bryant all raving about?!
Bone broth of course!
You make it by boiling animal or fish bones until they liquefy and release minerals, gelatin and collagen. Bone broth is cooked much longer than soup to achieve this effect.
It tastes SO yummy and fills you up without adding a lot of calories.
It also helps heal your gut, detoxify your body, blasts wrinkles and calm inflammation.
You can always find some homemade bone broth in my fridge or freezer.
My basic recipe?! It's easy!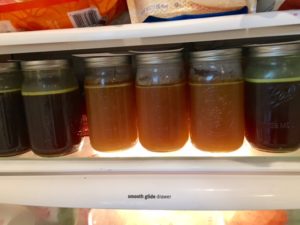 Simple Bone Broth
Ingredients
2 pounds of bones (chicken, turkey, or beef)
¼ cup apple cider vinegar
1 medium onion, roughly chopped
2 carrots, roughly chopped
2 celery stalks, roughly chopped
2 cloves garlic, chopped in thirds
1 teaspoon peppercorns
1-2 teaspoons turmeric
1-2 teaspoons fresh ginger
sea salt to taste
optional – additional spices and herbs such as parsley, basil, and cilantro or cabbage leaves and bay leaves
Instructions
If using raw bones, place them in a greased pan and bake for 20 minutes at 350 to open up the flavor by lightly roasting.
Place the roasted bones in a crock pot.
Pour filtered water into crock pot to just cover the bones. Add the apple cider vinegar and allow to sit for 20 minutes. The acid water will help to extract more nutrients from the bones.
Add the rough chopped carrots, celery, garlic, peppercorn to the pot.
Add the turmeric, ginger and sea salt to taste.
Add any additional herbs and spices you'd like.
Fill with water to crock pot maximum.
Bring the mix to a boil for a period of time.
Reduce heat to simmer and allow to simmer for 24-48 hours.
There may be impurities that form as foam if not using organic, grassfed bones. Skim those off periodically and discard.
When done cooking, allow broth to cool slightly.
Use a fine mesh strainer to remove all the veggies and bone pieces.
When cooled more, pour into glass mason jars. Store in the fridge for 4-5 days or put in the freezer for up to 3 months. Remember to allow an inch of space at the top of your glass mason jar, for liquid expansion, if freezing.