If you've followed me for awhile, you know that smoothies play an important role in my daily life.  They were perfect for me to begin my journey to taking back my health 15 years ago, and they still play a key role in my home life and raising three healthy boys.
Over the past couple years, I've also come to appreciate the importance of juicing as it has offered benefits for my clients with IBS, autoimmune and other absorption challenges. It's also offered significant benefits to the hundreds of women (and some men) who have completed the Love Yourself seasonal detoxes.
Part of the reason I don't juice regularly is that I have a terrible juicer and I have not invested the hundreds (or thousands) of dollars to get a spectacular one.   I blend nearly everyday because I have a rockstar blender (two of them actually!  A Vitamix and a Blendtec – which I won!).
Last summer my boys and I were exploring our local farmer's market and we stumbled upon a juice booth by GetJuiced4Life.  My boys begged to try their red and green juice so we bought a couple bottles of each color.  They were a HUGE HIT!
Fast forward a few months and I'm preparing for my big Love Yourself detox group and I wanted to do something special for them – custom juices!  So I reached out to Devon Brent at GetJuiced4Life and found an amazing, driven young man who is just as passionate as I am about using food to take back your health!  His personal journey in dealing with health challenges and 25+ hospitalizations is one of frustration, education and inspiration.
Turns out he was 110% onboard to create custom juices for my detoxers!  What a blessing!  His dedication, creativity and work ethic partnered with his DELICIOUS pressed juices were the perfect bonus to add into my group program.  I love that we share a passion for educating our community about the importance of nutrition and positive lifestyle choices.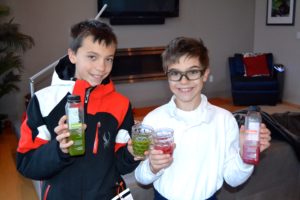 GetJuiced4Life prepares organic, raw, fresh, cold pressed juices in small batches that are bottled in a BPA free container.  There is over TWO POUNDS of fresh, local veggies and fruits in each bottle of juice.  WOWZA! Presently, there are two flavors available at Good Harvest Market in Waukesha – the red juice called "Vitalize" and the green juice called "Fortitude."  Both are DELICIOUS and get the seal of approval from my kiddos.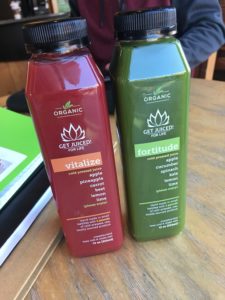 For the Love Yourself Winter Detoxers, Devon and I teamed up to make three custom blends (one green, one red, and one orange plus a ginger gut health shot booster).  I hope to continue some custom order throughout the year.  If you'd like to get in on one of these orders, and are in the Brookfield area, just reach out to me at heather@betterhealthbyheather.com
And the Love Yourself Winter Detox has been such a HUGE SUCCESS this year that a second round will be kicking off on Thursday, March 16th – just in time to get refreshed, reenergized and ready for spring break. Check back in early March for open sign-ups!