Ever feel your energy levels running a little low about 2-3pm?  I used to all the time!  (I was a secret cat napper, but that's a blog post for another day).  Now, my mid afternoon energy crashes rarely happen since I've incorporated so many energy boosting foods into my daily diet.  Honestly, the more good energizing foods you add in on a daily basis, the less likely you will be to look for "poor fake energy" foods (such as coffee, a candy bar, chips, etc) at 3pm.
Incorporating energizing foods into your daily life does not need to be time consuming and complicated. And to show you that, I'm giving you my favorite EASY, SIMPLE energy boosting foods for busy mamas as well as the why and how of introducing them into your daily life.
BHBH's Top 10 Energizing Foods for Busy Moms
1. Lemon Water – Yes, I start my day, 6 times out of 7, with a glass of room temperature lemon water upon waking.  After sleeping 8 hours, and not hydrating in the later evening hours, our bodies need to be hydrated to begin the day functioning optimally.  Lemons are loaded with vitamin C, B-complex vitamins and potassium. So, start your day with a boost to your immune system, a digestive aid, strong detoxifier, and energy boost. Just be sure to dilute your lemon juice with at least 8 ounces of water as lemon juice is hard on the enamel of your teeth.  Sometimes I even drink my lemon water through a straw 🙂
2. Grapefruit – Peel and pop into your mouth for a tart and tangy treat with a hint of sweetness.  Leave a little bit of the white stuff – the good fiber- and you have another heavy, immune boosting dose of vitamin C along with vitamin A, copper, fiber, and potassium.  Add a few slices on top of your salad,  throw half into your smoothie, or eat just plain as a tasty mid-afternoon treat (please don't sprinkle with sugar though).
3. Avocado – Also know as the Alligator Pear because of it's leathery skin and technically classified as a fruit. They are a rich source of mono-unsaturated fats which are easily burned for energy.  Boom! Great source of protein, vitamins C and E, and potassium.  I probably average 1/2 and avocado/day in my diet – mostly in the form of homemade guacamole, slices on my salads, slices on my soup/chili, or on top of my toast.  Simple. Nutritious. Delicious. Energizing!
4. Asparagus – This green stalk of fiber is loaded with B vitamins which are natural energy boosters. And the fiber will help stabilize blood sugars to avoid those afternoon dips.  These slim beauties are easy to roast and taste wonderful spritzed with coconut/olive oil, sea salt, garlic or lemon.
5. Hemp seeds – These tiny seeds pack a powerful punch of plant protein and fat. They contain all the essential amino acids and fatty acids necessary to maintain human life. They're easy on your digestive system and can be blended into water, smoothies, and salad dressings. Or, you can sprinkle hulled hemp seeds on your salad for an easy energizing protein boost. (PS. You can find them in most health food stores as well as bigger grocers like Woodman's, Whole Foods, etc)
6. Tea – There are an abundance of teas on the market today! The white, green, and oolong tend to be less processed.  While certain teas do contain some amount of caffeine (to give you that little boost), it tends to be much less than your 3pm cup at that infamous drive-thru. And teas contain a plethora of compounds that are beneficial to boosting your metabolism too!
7. Sweet Potatoes – Of course there needs to be some sweetness on my list.  Readily available and easy on the budget, these orange veggies provide lots of vitamins A & C, manganese, copper, potassium, fiber, and vitamins B6, B1, B2 and B3.  WOW!  A nutritional punch! Bake in the oven and top with cinnamon or nutmeg or go the "baked potato bar" route and top with avocados, hemp seeds, onions, tomatoes, lime, cilantro, or legumes.
8. Legumes – Black beans, chick peas, and lentils contain resistant starches that function as pre-biotics in your digestive system. They are the base that encourage the growth of good bacteria.  Legumes are an excellent non-animal protein source and provide a wide variety of vitamins and minerals.  You can easily add chickpeas to a salad for an energizing boost.  And lentils make great soups which cook in 20-30 minutes time.  Red lentil soup with lemon is one of my favorites!
9. Dark Chocolate – And just a little bit more sweetness for my list. Do I really need to elaborate on this one?!  Powerful antioxidants, fiber, manganese, copper and magnesium that every mom can savor while running errands or picking up kids from school.  Aim for 70% (or greater)  if possible…and work your way up if you need to.
10.  BHBH's Energy Orbs – This recipe has been a hit with my boys, our friends, mom's groups, neighborhood kids, gymnastics teammates and more.  Not sure I've found a person who has not enjoyed them.  They are quick to make with oats, nut butter, chia seeds, honey and other options if desired.  You can keep them in the fridge for up to a week and grab them on the go for a well balanced snack of fat, fiber, and protein.  Sure to keep you energized on the run.  You can find the recipe here.
And there you have it.  My 10 favorite energizing foods that are easy for busy moms to make a part of their daily lives.  Just in case you are wondering, if I had to add one more bonus food, it would be spinach….but if you are making all those salads to enjoy under your grapefruit, avocado, hemp seeds, and legumes, then I'm hoping you are getting a good amount of greens on a daily basis.
Get energized mama!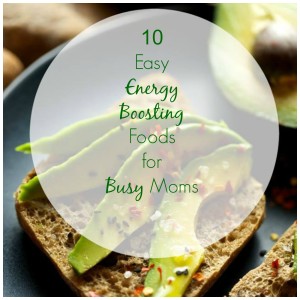 Heather Ferber is a Certified Holistic Health Coach helping busy moms to get fresh, focused and energized so they can enjoy better health, balanced hormones, healthier kids and more calm in the kitchen. She has appeared on WISN Channel 12's morning news to share her kitchen tips, tricks and recipes. You can find her on FB at www.facebook.com/betterhealthbyheather or on the web at www.betterhealthbyheather.com