Can I share something with you?
There's something that I didn't realize when I first started working one-on-one with people who want to make their health and wellness a priority, people who are sick of feeling less than amazing, and people who are confused about who to listen to for advice.
Here it is:  Most of us already know what we need to be doing to improve our health!
There is an overwhelming amount of information (and MIS-information) when it comes to the foods we eat. Just look at the variety of books in the "diet" or "health" section of your local library or book store.  When it comes right down to it, most of us know the basic things we should be doing to improve our health.
In fact, when I ask my clients "What are three things you think you could be doing today to improve your health and wellness?" I get similar answers each time:
1. Eat more vegetables.
2. Stop eating ______ or stop drinking ______ (or stop smoking!!)
3. Be more active
We intuitively know how to make ourselves well.  But when it comes to following through?!  That's where we fall apart.  I know!  I've been there and do it too!  I still do. I might be a health coach, but I'm still human!  I eat chips, drink wine, enjoy caramel, and sometimes I don't eat as well as I know I can.
Over the next week, think about the obstacles that are stopping YOU from living your healthiest life.  Think about it.  Journal about it. Reflect on it.
What obstacles do you see in your way?  Maybe you work long hours and cooking a healthy meal seems to time consuming or overwhelming.  Perhaps you feel that the price of healthy food is too high.  Maybe you question if you really deserve to feel amazing and energized.
Your job for the next week is to simply think, journal and reflect on these obstacles.  Knowing your obstacles, habits and patterns will help you figure out how to work around them or how to work with them.
Would love to hear your comments below – tell me what is stopping you!
Let's work it out together friends.
PS.  Grab a copy of my FREE Eating for Energy e-book while it's available!  Perhaps this will help you identify some of your obstacles and habits.  www.betterhealthbyheather.com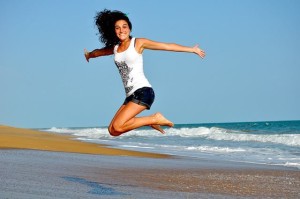 Heather Ferber is a Certified Holistic Health Coach and detox specialist helping busy moms to get fresh, focused and energized so they can enjoy better health, balanced hormones, healthier kids and more calm in the kitchen. She has appeared on WISN Channel 12's morning news to share her kitchen tips, tricks and recipes. You can find her on FB at www.facebook.com/betterhealthbyheather or on the web at www.betterhealthbyheather.com