How did we get to the middle of May already?!  Seems like my boys were just waving at me excited to be off to the first day of school in third and first grade!
Only about 18 days of classroom time yet before they are home for the summer.  That means this mama is in major work mode to get quite a few things accomplished over the next few weeks.
It means my life is just a little bit CRAZY.  But I still want to maintain my clean eating lifestyle because it makes me feel GREAT as I move into summer.  (And my adrenals need all the support they can get.)
We aren't going to let "being busy" stop us from being healthy and feeling great, right?!  Well, I have some tips for you on what you can eat to stay healthy, even when you are busy.
SMOOTHIES.
So fast!  Just pour some coconut water, almond milk, or hemp milk into the blender. Then throw in your favorite fruits AND some veggies (spinach, cucumber, kale, romaine just to name a few).
Add some protein if you like (hemp seeds, scoop of hemp protein/pea protein powder, nut butter) and some healthy fats (avocado, coconut milk, or nuts).
For a boost in flavor, add some vanilla extract, a dash of cinnamon, or a piece of ginger.
Blend and BINGO. YUM!
SALADS.
Chop up a bunch of lettuce – romaine or red leaf – and add some spinach. Pile on a rainbow of veggies – tomato, cucumber, carrot, radish, sliced beet, bell pepper, scallion/onion…whatever veggies you have in the fridge.  Add some protein – pumpkin seeds, hemp seeds, cooked organic chicken breast, kidney beans, black beans, cooked lentils, hard boiled egg, salmon or tuna.
Make a quick dressing with stone-ground mustard, olive oil, and a couple sprays of Bragg's Amino Acids (or a bit of sea salt if you don't have the Bragg's). Toss it all together and eat.
If you chop the veggies in bulk, you can make a couple salads at a time (google mason jar salads for layering ideas). Don't dress them yet and they will last a couple days in the fridge.
KNOW WHERE YOU CAN GET HEALTHY TAKE-OUT.
Yes. I do get take-out when things get a bit hectic.  But I know where to go to get my favorite, healthiest options.
This may be a nearby restaurant (I love my local Cafe Mana, Parkside 23, Oh What A Day Cafe, Good Harvest Market) or you could venture to a place like the Green Kitchen in the Milwaukee Public Market.  Metro Market now offers an organic salad bar and Fresh Market offers organic options as well. Whole Foods is always a fabulous place to treat yourself if you are on the East side.  (I may be found at ALL of the above over the next few weeks!)
No, it's not quite as cheap as buying and preparing it yourself, but if you area busy person (OR you just don't enjoy cooking) and would just spend your money on junky fast food or pizza delivery, then it's a much better value to pick up healthy take-out.
It's always the small habits that add up to big changes over time. Don't let yourself fall back into your old habits that cause you to not feel so great!
And I'd love to hear from you too:  What do you like to eat when you are really busy and want to keep it healthy?
PS.  Grab a copy of my FREE Eating for Energy e-book while it's available!  Perhaps this will help you identify some of your obstacles and habits.  www.betterhealthbyheather.com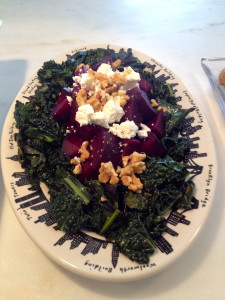 Heather Ferber is a Certified Holistic Health Coach and detox specialist helping busy moms to get fresh, focused and energized so they can enjoy better health, balanced hormones, healthier kids and more calm in the kitchen. She has appeared on WISN Channel 12's morning news to share her kitchen tips, tricks and recipes. You can find her on FB at www.facebook.com/betterhealthbyheather or on the web at www.betterhealthbyheather.com