Every other year, we get together with several other school families to donate a Farm to Table Dinner to our children's school auction.  It's helped bring in thousands of dollars for our kiddos school!  And it gives us the opportunity to share our beautiful backyard and foodie passion with a special group of friends.
This year, Chef John Schwarma IV, put together an amazing creative blend of culinary creations.  Once the menu was established, I had outstanding wine help from The Wine Cellar in Elm Grove to pair interesting wines with the courses for the evening.  The ultimate outcome was spectacular!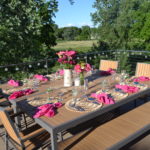 Wanted to share our menu and pairings and a few pics to inspire those of you who may be working on summer dinners!
APPETIZERS:
Tortilla Spoons with Pickled Rhubarb Salsa
Griddled Thai Chicken Pancakes with Raw Honey Chili Sauce
Homemade Ricotta and Crab Dip with Marinated Garlic Flatbread
Apricot-Ginger Shooters
**Appetizers were paired with a Faire La Fete Brut blended with a local juice, fresh fruit pieces and basil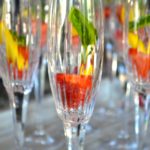 SOUP:
Summer Gazpacho
SALAD:
Blackened Carrot with Avocado, Cilantro Pesto, Feta, Pistachio
**Soup and Salad were paired with Bodegas Nunez Andio'n Albarino 2014
ENTREE:
Sauteed Salmon on Grilled Corn Puree, Smoked Tomato BBQ, Asparagus Tips, Sweet Potato Hash
**Entree was paired with Domaine Sonoma Chardonnay 2013 OR Pinot Noir from Washington State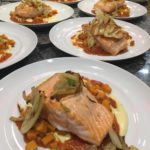 DESSERT:
Chevre Cheesecake with Warm Cherry Sauce
**Dessert was paired with a local port from the Wollersheim winery…and all the leftover wine from the previous courses. LOL!
We had just a TON of fun with our guests, our help, and with our Chef John Schwarma!  Hi creativity was outstanding!  Contact me if you need his information – I will update this post with a website and link when it's available.