Popped over to the Fox 6 Real MKE Studios the other day to make a few homemade summer salads and dressings. You can watch my segment here. 
Store bought salad dressings are often loaded with unhealthy fats, hidden sugars, undesirable soy products and way too many calories.
And store bought clean eating/healthier dressings can carry a hefty price tag of $5-$7 or more for a small bottle or jar. YIKES!
So why not learn to make your own?! Make it healthier for you and your family and lighter on your grocery store budget.
You definitely won't miss the bad fats, excess sugar and unwanted calories.
Summer Fresh Chicken Salad
1 cup cooked chicken, shredded/chopped
1 cup roasted corn
½ cup tomatoes, chopped
½ cup cilantro, chopped
¼ cup red onion, finely chopped
1 small cucumber, chopped
½ jalapeno, seeded and chopped (optional)
½ avocado, sliced (optional)
Mix first 6-7 ingredients in a bowl. Top with sliced avocado if desired. Drizzle with the Simple Summer Lime Salad Dressing.
Simple Summer Lime Salad Dressing
2 limes, freshly juiced
2 Tablespoons extra virgin olive oil
1 teaspoon stoneground mustard
1 teaspoon honey
sea salt, pepper to taste
Put the freshly squeezed lime juice in a mason jar. Add the olive oil, mustard, and honey. Put lid on jar and shake well until emulsified.   Add sea salt and pepper to reach desired taste. Store in glass mason jar in fridge for up to 5 days.
Summer Salad
3 handfuls mixed greens
1/3 cup fresh peas
¼ cup radishes, sliced
½ medium carrot, shaved
Put greens on plate. Layer on the peas, radishes and carrots. Drizzle with Yogurt Ranch Dressing.
Yogurt Ranch Dressing
¾ cup yogurt
¼ cup buttermilk
1 Tablespoon fresh parsley, chopped
2 Tablespoons fresh chives, chopped
½ – 1 teaspoon garlic powder
½ – 1 teaspoon onion powder
splash of celery salt (or sea salt) and pepper
splash of lemon juice to thin if desired
Put all ingredients in glass jar. Shake until well blended. Add in splash of celery salt and lemon juice if desired.
Sundried Tomato Quinoa Salad
1 cup already cooked quinoa
¼ cup feta cheese
¼ cup sundried tomatoes, chopped
¼ cup scallions
¼ sunflower seeds
4 large basil leaves, chopped
Put all ingredients in a bowl and mix well. Drizzle with the Simple Vinegar & Oil Dressing.
Simple Vinegar & Oil Dressing
2 tablespoons apple cider vinegar
1 tablespoon olive oil
½ fresh lemon, juiced
½ teaspoon garlic powder
sea salt and vinegar to taste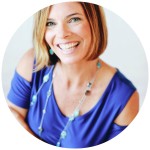 Heather Ferber is a Certified Holistic Health Coach, AADP who helps busy moms get fresh, focused and energized. She is a detox specialist helping women to rebuild gut health, balance hormones and thrive. She enjoys empowering moms to take back their health and feed their families better with simple, everyday advice and suggestions that can be easily integrated into today's modern family's hectic lives. You can find her on Fox 6 Real MKE once a month, speaking and teaching classes in the community, cooking in her kitchen for family and friends, playing her piano to relax, or out running with the family dog.