Don't be tempted by the drive-thru on those crazy nights rushing home from work, running kids to sports practices, and trying to make the PTA meeting.  Instead, have your favorite five minute dinners on the mind so you can keep it clean, healthy and simple, even while on the run. Sharing the Top 5 favorites at my house and I encourage you to create your own Top 5 Five-Minute dinner list and keep it someplace where you can see it (and use it!) in the midst of the chaos.
Sautéed Garlic Shrimp with Spinach – basically, I chop a whole bunch of garlic and sauté it in olive oil. Add in shrimp and cook until heated through (I often use frozen wild shrimp on this because it's in my freezer ready to go).  Throw in a couple handfuls of spinach.  Serve over a bed of greens or spiralized, fried zucchini noodles.  (If your kiddos are thrilled about that, throw it over your favorite pasta).
Curried Cauliflower Rice & Veggies – grab a bag of riced cauliflower from Whole Foods or Trader Joe's and fry it up in a tablespoon or two of olive oil.  Add in a teaspoon of curry (or a bit more depending on your taste).  Throw in fresh broccoli, sliced peppers, mushrooms or onions (or whatever veggies you have in the fridge) and cook for a few minutes.  Top with cashews, raisins, cilantro or whatever spice you have in the house. You can top with a fried egg too!  And if your kiddos are unsure about the cauli-rice, throw some of their favorite cheese into the mix.  A little bit of cheese goes a long way!
Egg & Veggie Scramble – yes, sometimes breakfast for dinner is a quick and easy thing!  Scramble up a few eggs and throw in chopped veggies.  I love to add in spinach, broccoli pieces, onion, tomato, peppers or zucchini.  Throw your scramble on a plate with a piece of sprouted bread (Angelic Bakehouse is our favorite) topped with some delicious organic butter and you are set!
Avocado Mound – this is the ultimate in easy.  Prep an avocado on your plate. Top it with radishes, onion, celery, peppers – whatever crunchy veggies you like and have on hand. Add some cilantro, sunflower seeds and fresh squeezed lime.  A hint of sea salt, pepper and cayenne to complete the seasonings and you have an amazingly filling meal in a flash.  You can always grab a cracker or two on the side – we love Flackers, Mary's Gone Crackers and Simple Mills Almond Flour Crackers.
SMOOTHIES!  Yes, always on my go-to list for fast clean eating.  Blend up 2 cups of your favorite liquid base (water, coconut water, almond milk), throw in a cup or two of fruit (berries, green apple, peach, orange), add in two big handfuls of greens (spinach, baby kale, bok choy tops) and mix well.  Make your smoothie a complete meal by having a fat, fiber and a protein.  Throw in some hemp seeds or peas for protein and flax or chia for healthy fats.  In less than the time it takes to go to the bathroom and wash your hands – you've got dinner on the table….or in a cup!  You can serve your smoothie in a bowl too and add all sorts of fun toppings.
Please don't let busy always be an excuse for not fueling your body well.
Busy is never going to go away in our lifetimes!  But how we manage the chaos in our lives, and in our kitchens, is where we can truly make an impact on our personal health and wellness.
Need help putting together customized suggested meals for your family and managing the chaos in your kitchen?
That's what I'm here for!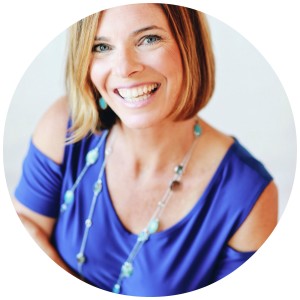 Heather Ferber is a Certified Holistic Health Coach, AADP who helps busy moms get fresh, focused and energized. She is a detox specialist helping women to rebuild gut health, balance hormones and thrive. She enjoys empowering moms to take back their health and feed their families better with simple, everyday advice and suggestions that can be easily integrated into today's modern family's hectic lives. You can find her on Fox 6 Real MKE once a month, speaking and teaching classes in the community, cooking in her kitchen for family and friends, playing her piano to relax, or out running with the family dog.