Well summer is here in Wisconsin and it's supposedly going to heat up to almost 90 degrees this week.  YEAH!  I LOVE it hot and steamy!
We are truly enjoying the freedom from our school scheduled lives – boys have been going to camps, gymnastics, swim club, book club, T ball, the pool, on hikes and big bike rides, and cooking with me in the kitchen.  Summer is the perfect time to encourage your children to help in the kitchen and be a part of the creative food process.  Not only is there the flexibility of the no school schedule, there are a plethora of colorful vegetables and fruits available at many local farmer's markets all over Southeastern WI.  My boys truly look forward to our weekly visits to the market! (Photo is from all of us at the market this past Saturday.)  And I look forward to all their help with some of my summer food projects.
This past Saturday, I had the opportunity to share my passion for raising healthy children with a couple thousand people in Southeastern WI thanks to WISN's Channel 12 Morning News Show.  This was my first appearance on LIVE TV!  And what a fabulous experience it was.  Many thanks to Matt, Darnell, Marianne & Sally for making me feel so welcomed and comfortable as we did some chatting and cooking in the studio. Watch the video below to see the fun for yourself, and feel free to share my video/website with any of your friends wanting to raise healthier children:
See my segment on the news – WISN's Channel 12 Morning News Show
How do you get your children interested in cooking and healthy eating? Engage them!  Children love to emulate their parents – if they see you doing something they naturally want to try it out too.  A couple suggestions that I know work well to draw kids into the cooking process are (1) Keep it simple. No need for gourmet meals.  If your child loves pizza, then start with making healthy homemade pizza (see my video above).  It does not need to be complicated!  (2) Empower your child with choices.  Give them the satisfaction of making decisions. For example, if you are making healthy homemade muffins, set out 3 different types of berries or veggie purees that could be added to your recipe and allow your child to pick the ones they would like to add.  (3) Make it FUN!  Children love to laugh and be silly.  Make funny shapes with your food, mess up your face/kitchen, wear silly hats and aprons – give your children the freedom to enjoy this silly, special time with you.
Honestly, in my personal experience, I have witnessed children eating their creations on many different occasions.  In my practice, in my boys' school, in groups of friends, in my home – children are far more willing, and eager, to try something they have helped create and cook…even if it contains new ingredients or some items they say they may not care for.  You would be amazed at what some children will eat when they are engaged in a fun process.
Cannot tell you how fun it was to get everyone's texts, calls, and emails after my TV appearance.  And it warmed my heart to hear many of you say how excited your children were to make healthy pizzas.  LOVED it!  Here are a a couple photos from one family that watched the video and then made their own grilled pizzas for dinner Saturday night.  WAY TO GO!  You made my day! The children each made their own creations as did Mom & Dad.  Check out the fabulous photos they sent my way.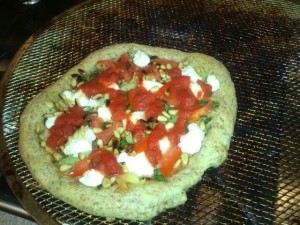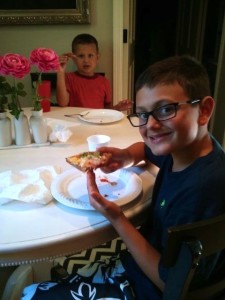 Hope you all are having a wonderful, healthy, happy summer.  If you have not had your children cooking in the kitchen with you yet, it's not too late to add it to your summer fun list.  What child is going to complain about making pizzas?  Have fun!